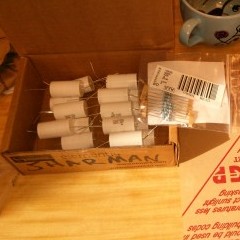 The capacitors have finally arrived.  UPS decided that shipping them from Ontario -> My apartment in BC -> Ontario -> University of Victoria was a good idea. However, they have finally shown up!  Aren't they beautiful?
You will doubtless notice the little baggy of resistors.  These have a ridiculously high resistance and voltage tolerances.  They're going to be integral in keeping this Tesla coil safe (well safer).  Each resister will be soldered across a capacitor, this will keep the capacitors from holding onto a massive charge when the machine is turned off.  It's a bit more work, but a very good idea in the long run.
Speaking of soldering, I have no idea how to do it.  Tomorrow I get a quick tutorial from the Uvic electronics shop.  Once again, these guys are saving this project from the mountain of 'I'll finish it laters'.  Projects that got put on the back burner.